ANA Unveils plan to celebrate 40 years of existence, rolls out drums in ten cities for the mega show
January 31, 2021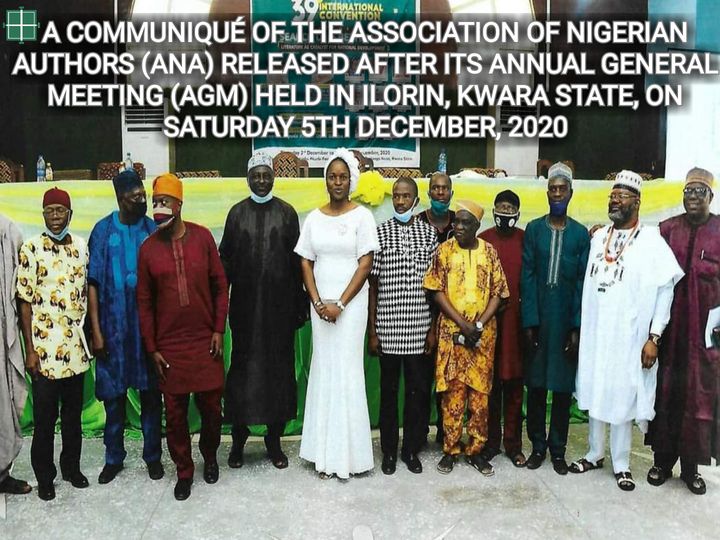 The year 2021 marks 40 years since that evening in 1981 when a group of already established writers gathered in Nsukka, with the hills standing guard, to light a fire that has continued to blaze. Those writers, at the instance of the legendary Prof. Chinua Achebe, whom we will continue to salute for his lifetime of service, birthed the Association of Nigerian Authors (ANA).
For the association, this is a year of history and hope. ANA members are proud to celebrate the legacy bequeathed to them by the founding fathers; a bequest they have succeeded in preserving over the years through storm and strife.
ANA, therefore, proposes a festival in ten Nigerian cities under the broad theme "ANA @ 40: The Resilience of Nigerian Literature." The celebration will be taken to Nsukka, where ANA was birthed and to Ibadan, a major incubating ground for African literature. The other cities where the celebration will take place include Port Harcourt, Makurdi, Lafia, Bauchi, Kano, Lagos, Minna and Owerri, all chosen for their various shades of historical and literary significance.
The Secretariat will release a plethora of programs for each of the cities that will run from April through August. The celebrations will culminate in the International Convention to which many writers across the globe will be invited. Because of its significance, this year's Convention, in November, will take place at the Mamman Vatsa Writer's Village, Mpape- Abuja. There will also be a production of a special 40th Anniversary ANA Review and an anniversary magazine that will tell the ANA story thus far.
In order to deliver a 40th anniversary celebration that is worthy of our founding fathers' dream, the national executive council, therefore, solicits the support of all ANA members across chapters, members united by a common cause - passion for literature and the search for a better world.
Maik Ortserga
General Secretary